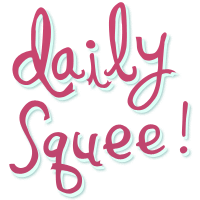 Daily Squee
Reader Squee: Enzo and His Sock Bunny
Megan G. says: "The first day in his forever home from the pound and 6-week-old Enzo had already found the perfect cuddle buddy!"
Yay! We're so happy that Enzo has a loving home and a squee cuddle-buddy.
-Sally Squeeps
Do you have a squee pet that you want to share with the world? Send us your pet pictures and stories, and they could end up on Daily Squee!