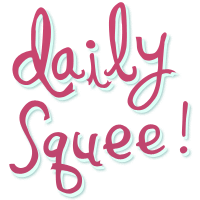 Daily Squee
Reader Squee: Rescue Dog to the Rescue!
MamaWhiskey says: "This is our dog Koby, we adopted him and he has become a huge (no pun intended) part of our family. He's so good with the kids—he loves to play. Our daughter put the swim rings on him and he didn't bat an eye!"
Koby looks like a big sweetheart!
-Sally Squeeps
Do you have a squee pet that you want to share with the world? Send us your pet pictures and stories, and they could end up on Daily Squee!