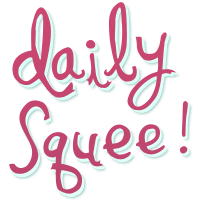 Daily Squee
Reader Squee: Baby Bunnies
Emily says: "These are some of my baby buns, they are currently four-and-a-half-weeks-old and off to their new homes in a couple more weeks! I'm going to miss their bunny cuddles."
I don't think my brain can handle how much squee is in this picture! SPLORT!
-Sally Squeeps
Do you have a squee pet that you want to share with the world? Send us your pet pictures and stories, and they could end up on Daily Squee!