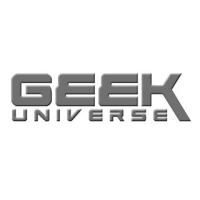 Geek Universe
Two Dudes Stole $75,000 Worth of Magic Cards From a Game Shop in Texas
Break in video - mp4 format

Here is the video showing the break in of Pat's Games last year on January 24th. The trial starts next Tuesday. I will update with what's going on. They said it would be a 3 day procedure.

Posted by Pat's Games on Tuesday, January 26, 2016
Two burglars used a water meter key to rip the door off of Pat's Games in Austin and stole three display cases full of valuable Magic the Gathering cards. Individual Magic Cards can cost hundreds if not thousands of dollars, and the shop isn't even publicly listing some of their lost cards for security reasons.

The burglars obviously knew what they were looking for, and luckily the police have assigned a Magic player to the case. He apparently normally works residential burglaries, but no doubt Austin PD wanted someone on the case who knew what they were looking at.

Here's hoping the thieves are brought to swift justice!