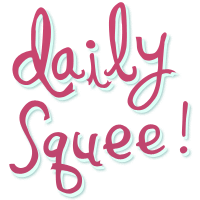 Daily Squee
Tiger Cub Wins the Squee Spree!
Congratulations to the tiger cub, the notoriously striped feline! This cute little guy will most likely stick with his mother until he's about 2 years old learning the ropes of a large jungle cat. One behavioral trait that is shared only with the jaguar is a fondness for water. Tigers will often swim for pleasure or to cross bodies of water like ponds or rivers.

For the Next Squee Spree, we'll be featuring two common cuties found on the farm. Can you guess what they might be? Come back Friday to find out!