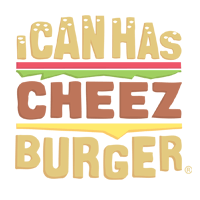 I Can Has Cheezburger?
We're sure you all know Bub the cat but just in case you don't, here is her unique story, as written on his website: she was discovered few years ago in a tool shed in rural Indiana at only a few weeks old. She was taken in as a rescue when it was clear that she would require special care. Since then BUB has become one of the most famous cats on planet. She is a published author, a talk show host, the star of an award winning documentary, created Lil BUB's Big FUND for the ASPCA (the first national fund for special needs pets), and has helped raise over $300,000 for animals in need.
BUB was born with a multitude of genetic anomalies: she is a "perma-kitten", which means she will stay kitten sized and maintain kitten-like features her entire life. She also has an extreme case of dwarfism, which means her limbs are disproportionately small relative to the rest of her body and she has some difficulty moving around. She has short, stubby legs and a long, ferret-like body. Additionally, BUB is a polydactyl cat, meaning she has extra toes, and in her case, one extra toe on all of her four paws, adding up to 22 toes (and 22 claws). And then of course there are her big, bulging, wonder-filled green eyes. Some think she can see into the future with those things. Despite her unusual looks and numerous "deformities", BUB is a healthy, happy cat living in the care of her "dude" who treats her like a queen.
---

Advertisement

---

---

---

Advertisement

---

---

---

Advertisement

---

---

---

Advertisement

---

---

---

Advertisement