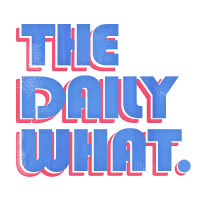 The Daily What
Dip of the Day: There's Something Terribly Wrong With This Anchor's Artichoke Dip
For Global News Calgary's Leslie Horton, double dipping isn't really going to be a problem.
While sharing her favorite holiday recipes on air last week, Horton admitted that something had gone "terribly wrong" with her artichoke dip. The congealed substance in a glass bowl known as "artichoke dip" looked closer to scrambled eggs and smelled of "vinegar," despite there being no vinegar in the recipe. Her colleagues looked on in horror, fearing that they might be next to try.
"It's not supposed to look like that," someone off camera moans.
Everyone around the table looks visibly disgusted, with Leslie's first victim eyeballing the dip in terror. Another comments, it "smells like a barn." Leslie watches in glee, like a Bond villain monologuing their plans for global domination. Another spits up the dip.
"Is it edible?" asks anchorman Scott Fee.
The clip climaxes when meteorologist Jordan Witzel takes his first bite.
"At first, I'm like, 'Well, it's not that bad,'" he says. "But then the vinegar!"
"But there's no vinegar," replies Horton.
Other great moments: Anchor Amber Schinkle screaming "It burns."
Apparently, Horton didn't have the proper ingredients for the recipe, substituting an orange for lemon and just adding celery salt and oregano for no reason what so ever.
Watch the clip and remove Leslie Horton from your invite list.