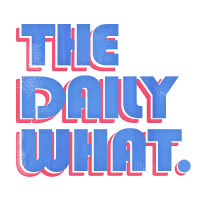 The Daily What
Reason of the Day: This Video Explains Why Your New Year's Eve Is Never As Fun As You Hope
After a month of the worst group text experience of your life, New Year's Eve is here, and you and your friends have finally decided on what you're doing – unless Jake gets back to you because Jake throws the best parties.
But New Year's Eve never really lives up to the hype, does it? And why is that? We try so hard to make it a special night. We even might get invited to Jake's party. He's going to have a two-story beer bong this year. Two. Stories. It'll be so sick.
ASAP Science actually has a pretty reasonable list of reasons why New Year's kind of stinks.



Expectations — We all think that New Year's is going to be a climactic end to our year, but it usually just ends with you passed out on your floor clutching a copy of the West Side Story soundtrack and screaming, "Why, Maria? Why?"

Trying too hard — To live up to the expectations of the night, we all try and make sure that the night is as perfect as possible, which is why you have got to be at Jake's party this year. But the fact is, trying too hard to have a good time leads to a bad time.

Optimism Bias — Apparently, our brain is hardwired to expect positive outcomes over negative ones. How do I get some of that optimism bias?

Reflection — Thinking about the past year can be… sad.

Alcohol — Reflection plus alcohol can be sadder.

Cost — Between dinner and the Über, NYE can cost a ton of money. Once you factor in all the money you spend trying to bribe your way into Jake's party, you're pretty broke come Jan. 1.

The Kiss — If you don't have someone to kiss, you're sad. If you do, everyone hates you.

Happy New Year! Make strong decisions!