Hide yo kids, hide wives, hide yo husbands, and definitely hide yo grandmas. The only way we could make this very real life story of a reindeer running amok through the tea-soaked streets of a temporarily improper Nottingham, is if Arnold Shwarzznegger reprised his role from Jingle All The Way, to catch the runaway reindeer.
Somebody must've slipped something in Bjorn the reindeer's eggnog Sunday, because he went buckwild.
"I was putting some Christmas cards up in the window and just saw it come charging down the street," local resident Gemma Green told the Nottingham Post. "Then I saw a group of people following it.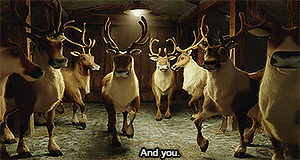 "It was quite strange. It's like the scene from Arthur Christmas where Santa loses his reindeer. I thought I was seeing things at first." Maybe she was, but heck if that's a way to spur some Christmas spirit.