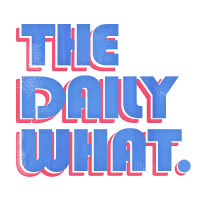 The Daily What
McDonald's of the Day: The One in Vatican City, Which Is Now Open
Blessed be he, the Grimace.
That's right. Grimace, Fry Guy, and Ronald McDonald are opening up shop right next to the Pope in downtown Vatican City, catering to the some six-millions tourists that pass through those hollowed grounds every year.
Not everyone's looking to give the Hamburglar forgiveness, though. Only God may judge the Hamburglar.
According to Vice, the new McDonald's is "at the corner Borgo Pio and Via del Mascherino, a mere block and a half—about 100 yards—from the famous St Peter's Square. While neighbors already displeased by vendors hawking knickknacks in the area have complained that the McDonald's would be a 'decisive blow on an already wounded animal,' at least one Cardinal is also saying leasing Vatican real estate to Ronald McDonald isn't in keeping with the Church's mission."
Vice recieved an official response from McDonald's, which stated they are occupying "a popular tourist area outside the Vatican that already has many other restaurants, bars, and retail shops… As is the case whenever McDonald's operates near historic sites anywhere in Italy, this restaurant has been fully adapted with respect to the historical environment."
McDonald's isn't the only chain that's coming to the Vatican. Hard Rock Cafe is coming to Via della Conciliazione, answering the prayers of millions who want yet another Hard Rock Cafe, apparently.
Enjoy the Vatican, tourists, it's yours now!