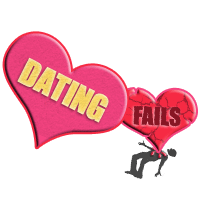 Dating Fails
Susie Osei grew up in a Mt. Prospect, Illinois neighborhood where every person on the block felt more like a family than simply the person who lived next door. So, when it came time to plan a wedding with her high school sweetheart, Miles, she knew the perfect location.
An email sent by Susie's dad went out to the neighborhood and "everybody just responded with total love." The block party wedding was ready to roll.
1

"Me and Miles have been dating since high school and we pretty much always knew that we were going to get married so we didn't really put a lot of pressure on it."

---

2

To keep it even closer to home, the wedding was officiated by the Susie's brother.

---

---

4

"There was no issues, everyone just wanted to help. Everyone was saying we could use their lawn and use their trees and offered to help, so it worked out."

---

---

6

The neighborhood block party wedding was also a major win because Susie's mother suffers from Alzheimer's disease.

"In the past couple years I think it became more apparent to Miles that more than anything else, it being extravagant or waiting for a time when we're less busy, it was important to us that she be there for the wedding."