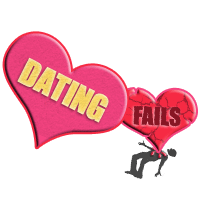 Dating Fails
Newlywed couple Dave and Lianne, were in Mallorca for a week, and it was when they got back they discovered friend Chris had continued their 'friends-getting-married-custom' of pranking their house.
In fact the pranks have become a tradition among the couple's friendship group, beginning in 2008, and getting more extreme each time.

"I was fully expecting it – it was revenge. When Chris got married I wrapped his house in bale wrap and made it look like a bale – his cars, his hedge, his gates, so I was expecting it. Lianne saw the funny side.
She thought on the way home from the airport they might have been nice and left us alone, but there was no chance" said Dave.

---

2

Sex Dolls in the Windows and Manure

A stunned couple came home from their honeymoon to find their windows boarded up, manure in their truck and a tractor in their dining room.
Not only that but somebody had filled their bath with balloons, individually wrapped all their cutlery in cling film and taken the labels of all their canned food.

Dave said the only person who "escaped" the prank was the couple's one-year-old daughter, Jessica, whose belongings were left alone.


---

""They had boarded the windows up, they had put a three-piece bathroom suite in the porch – a bath, a sink and a toilet."

"They put signs in the top window saying 'beware of the bull', and they put a sold sign in front of the house.
There were some road work signs in the middle of the drive, and with my pick-up truck, they wired the foot brake up with the horn, so every time I touched the brake it sounded the horn. And he superglued the radio on full blast."

---

"They filled all the drawers with rice, they took all the labels off the food tins so we don't know what they are. They filled the sugar pot up with salt, and filled all the pillows with rice."

Best man Chris explained, "Dave was my best man at my wedding, he's one of my best friends and he did the same sort of thing to my house. It's a tradition."