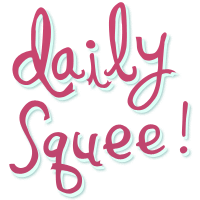 Daily Squee
Reader Squees: Cuddling Geckos
Rin says: "What's cuter than two leopard geckos snuggled together? Nothing. These two bonded like sisters the moment I brought them together."
D'awwww... these two slithery "sisters" are some of the cutest sisters I've ever seen!
Do you have a squee pet that you want to share with the world? Send us your pet pictures and stories, and they could end up on Daily Squee!