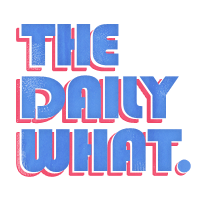 The Daily What
Banksy's famous Parachuting Rat, located on a wall in the Melbourne, Australia suburb of Prahran, has been destroyed by builders doing drilling work for a café.
Local business owners were upset by the needless demolition of the piece by workers who apparently didn't realize what they were destroying. The wall did contain other graffiti, but area taggers had avoided painting over the Banksy.
"Had it been 20cm higher or 20cm to the side this would never have happened," neighboring business owner Jacqui Vidal told the Stonnington Leader, "This should have been avoided. It's not a big piece, but it is one of the few remaining Banksys in Melbourne."
The Rat was destroyed once before by cleaners who painted over it during a 2010 anti-graffiti campaign, but was later restored.
There is some good news, though: a possible new Banksy piece -- showing an Asian boy hunched over a sewing machine and a Union flag -- has appeared on the wall of a Poundland shop in London. It has yet to be confirmed as authentic on the artist's website.
[heraldsun.]