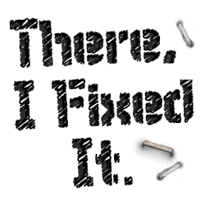 There, I Fixed It
Drive it Like You Stole It
Make your own screwdriver-key and feel like a thieving badass, like from the movies!
"Officer, I swear it's not stolen!"

Find an old screw driver with a shaft about the same width as your key. Cut the shaft, leaving about an inch.

Cut a 1/4" to 3/8" slot in the shaft.

Round the end with a grinder or file.

This creates a smooth transition from the screwdriver to the key.

Trim a spare key, making sure it's long enough to fit in the ignition on one end, and the screwdriver slot on the other.

Make the end wider or narrower so that it fits in the screwdriver slot.

Put some flux on the end of the key and tap it into the slot. Solder with torch.

Use a grinder and sandpaper to line-up and smooth-out your connections.

Now you're ready to cause suspicion as you drive around town!