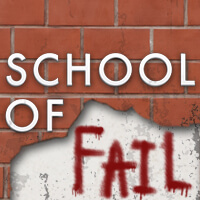 School of Fail
Dorm life can be hectic and filled with pitfalls. Here are some simple life hacks to make the dorm experience a whole lot more palatable.
Pen thieves are rampant on the college campus. Make sure they don't get your goods.

---

Advertisement

2

Save Closet Space With Soda Can Tabs

Your room is small, and your closet is ever smaller. Make sure you get the most out of the space you have.

---

3

Keep Your Pizza Crust Crispy

This actually works, it keeps your pizza crust crispy and delicious. 10/10 would use again.

---

This is astounding, Whoever figured this out deserves some sort of medal. Because this is the closest thing to magic I've seen in my life.

---

Advertisement

5

Dryer Sheets and a Fan Make an Instant Air Freshener

Dorm rooms smell awful. That's just a simple fact. This helps you fight back. Clean smelling rooms are peaceful rooms.

---

6

Sticky Wall Hooks Make Amazing Tablet Wall Mounts

Now you actually have a reason to use those 3M wall hooks that you never knew what to do with in the first place.

---

7

Set Your Lock Screen to Your Class Schedule

Never forget what your classes are again. You'll always know where you're supposed to be, and when.

---

Advertisement

8

Properly Fold Your Clothes to Save Draw Space

If you're like me, you're horrible at folding clothes. That was, until I saw this. I am now a t-shirt folding king.