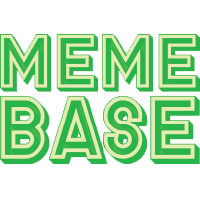 Memebase
Give in to the dank memes.
They may have gone the way of the dodo, but dank memes still somehow manage to remain a part of our day to day perusal of satire and ridicule. Otherwise how would you be reading this page? Sometimes memes are so overused, the phrase "flogging a dead horse" comes to mind. But instead of such a crude idiom, humankind came up with a much more succinct way of recognizing a meme's time to retire. Dank. Too many memes nowadays have just been overused to the point that their no longer as ironic as they once were. Pointing Jesus, Boromir, Kermit sipping tea, and anything having to do with Honey Boo Boo.
But don't worry, you won't be stuck staring at lists of endless outmoded memes. Try to shift gears and get into the swing of the weekend with some adorable bunny memes made to melt your heart and have you involuntarily making squeee noises.
---

---

---

---

---

---

---

---

---

---

---

---

---

---

---

---