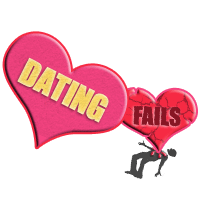 Dating Fails
In a world that can be scary, cruel, and lonely, only one place remains where love flourishes.
1

You Could Arm Wrestle Too

So much room for activities!

---

Advertisement

Shoes optional.

---

3

He Was Hoping To Meet Someone

But it looks like they're both taken.

---

This couple's honeymoon was a tour of the US' greatest bathrooms.

---

Advertisement

5

This Love Sponsored By Chuck Taylor

He's everywhere you wish you were.

---

6

If Only The Toilets Were Attached

Then one of us wouldn't have to be on the floor!

---

7

Resolved To Work It Out

Never go to stall angry.

---

Advertisement

8

That Never Happens To Me

Mass exodus.

---

9

It's Important That They Each Have Their Own Toilet Paper

Toilets are one thing, but the accompanying paper entirely another.