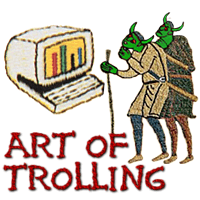 Art of Trolling




You know it's a crazy presidential race when Donald Trump isn't the biggest troll running for office. No, that honor goes a 15-year-old boy from Iowa named Brady Olson. Or, at least, that was the name his parents gave him way back when. Now, he goes by a name that's larger than life (if you consider life to be sperm cell and egg). He is the hero we need. He will bring change to the Oval Office. Well... he would if he weren't 20 years too young to run for that office.
1

For a while, no one could figure out his identity.

---

2

All they knew is that he had snatched up 9% of voter support in North Carolina as of this week.

There was a problem rendering this tweet - it may have been deleted.

---

---

4

Naturally, he is running as an Independent (I) candidate, because Deez Nuts belong to no one.

There was a problem rendering this tweet - it may have been deleted.

---

5

He even filed a formal statement of candidacy in Iowa.

---

6

And yes, it's his legal campaign name.

---

7

We see men who try to get the country swimming in the right direction all the time.

Sometimes they just need a little something more to egg them on.

---

8

At this point in time, we need a vasly deferent type of presidential candidate.

---

9

Someone who isn't afraid to tell the rest of those jerks off.

---

10

Someone who won't shrivel up in the face of adversity.

---

11

Fortunately, we now have that man.

---

12

6% of Americans know what's best for America.

Another 81% are still just in their "pre-favorable" phase.

---

---

---

15

Oh, believe me, it sounds oh so right.