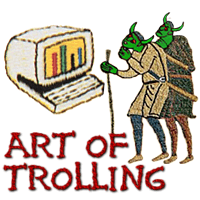 Art of Trolling
"So, Pretentious Douche at Milano Fashion Week, How Do Like the Work of This Fashion Designer That I Just Made Up on the Spot?"
Step 1: Take someone's real name who has no relationship with the fashion industry whatsoever.
Step 2: Ask the folks at Milano Fashion Week about him or her.
Step 3: Watch as the person crumbles under the pressure to know everyone and everything.
Step 4: Watch them lie through their Da Vinci porcelain veneered teeth.
Step 5: Enjoy!