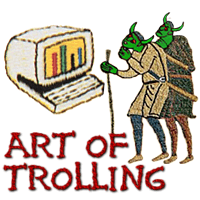 Art of Trolling
Street Art of the Day: Wanksy Draws Penises on Potholes to Force the City to Fix Them
A street artist in England recently discovered that the best way to get the local government to fix something is to wave a penis in its face.
"Wanksy" has been painting penises over potholes in Greater Manchester to draw attention to these problem spots after a number of his bicyclist friends were hospitalized in pothole-related accidents.
He told the Manchester Evening News that many of them are now getting filled within 48 hours thanks to his work.
The artist uses paint he describes as "a step up from chalk" that fades away after about a week, so there is no lasting damage.
"I'm inspired by the alternative style displayed by artists such as Grayson Perry and of course by graffiti artists like Hazer and street artists especially Banksy," he told MEN. "However, unlike these artists I want my work to be destroyed, I like it when it gets dug up and replaced with fresh tarmac."
A fan page has been set up on Facebook for the artist highlighting some of this pieces (which you can check out below).
But not everyone is happy about seeing shlongs in the street. A city spokesperson thinks they are just obscene, and asks: what would the children think?
"The actions of this individual are not only stupid but incredibly insulting to local residents," he said. "Has this person, for just one second, considered how families with young children must feel when they are confronted with these obscene symbols as they walk to school? Not only is this vandalism, but it's also counter-productive."
Wanksy thinks they are overreacting.
"To be offended by that, you must be very prudish," he told the BBC.