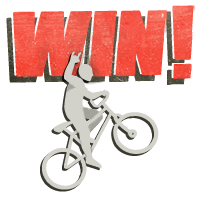 WIN!
Prank of the Day: Guy Adds His Own Hilarious Descriptions of Animals at Local Pet Shop
Tumblr user Obvious Plant (aka Jeff Wysaski/PleatedJeans) is known for conducting some pretty clever pranks in which he "plants" fake signs around shops and other public spots around L.A.
One that recently got a lot of attention involved him placing some fake self-help books like "So You're Son is a Centaur" among real books at a store in West Hollywood.
He's also trolled a wine shop with some custom recommendations.
For his latest stunt, Wysaski stopped by a local pet shop and added a few of his own descriptions to some of the animals' tanks and cages.
"Sometimes, you've just got to take it into your own hands to expand a store's product line," he writes.
These included everything from Guy Fieri hamsters and baby Godzillas to invisible fish and judgmental tree frogs.
Here are a few below, but you can check out the full set and more of his work on his Tumblr.