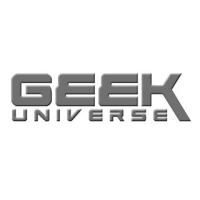 Geek Universe
Even Andy Serkis Didn't Know What His Star Wars VII Character Looked Like During Filming
Speaking to Entertainment Weekly, Andy Serkis revealed that he didn't know what his character, Supreme Leader Snoke, looked like while he was filming Star Wars VII: "It's the first time I've been on set not yet knowing what the character's gonna look like. I mean, talk about secrecy!"

Serkis and director JJ Abrams apparently worked out Snoke's character during the course of filming, allowing Serkis to shape his character, whom he describes as enigmatic and vulnerable:

"Supreme Leader Snoke is quite an enigmatic character, and strangely vulnerable at the same time as being quite powerful. Obviously he has a huge agenda. He has suffered a lot of damage. As I said, there is a strange vulnerability to him, which belies his true agenda, I suppose."

As for his physical description? Apparently he's very tall, with distinct features that couldn't be acheived without CGI. According to Serkis, "He is large. He appears tall. And also just the facial design – you couldn't have gotten there with prosthetics. It's too extreme. Without giving too much away at this point, he has a very distinctive, idiosyncratic bone structure and facial structure. You could never have done it [in real life.]"

Look, I know what you're thinking. Jar Jar Binks. Sadly (?), "he's a new character in this universe. It is very much a newly-introduced character. He's aware of what's gone on, in the respect that he has been around and is aware of prior events. I think it'd be fair to say that he is aware of the past to a great degree."

Looks like we'll have to wait for the release to see Supreme Leader Snoke in action.