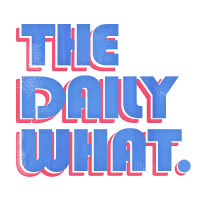 The Daily What
Least-Credible News Source of the Day: Somehow Not the Onion, Says Poll
If you need to get your news, you could do worse than The Onion, a new poll shows.
According to Morning Consult, "a media and technology company at the intersection of politics, policy, Wall Street, and business strategy," the satirical newspaper The Onion, which recently ran the headline "Report: Bananas Still Most Popular Fruit For Pretending To Receive Phone Call" is more credible than Infowars, which recently ran the headline "The Shocking Proof That Multiculturalism Has Failed." No surprise here: The Onion headline is true.
In a shocking upset to conspiracy theorists and screaming men around the globe, 18 percent of people polled considered The Onion (again, the paper put together for laughs) credible, while only 17 percent considered InfoWars credibe. Even more shocking is our new Chief Strategist to the White House Steve Bannon's former stomping ground, Breitbart, is only considered 19 percent credible. People aren't just finding white supremacy very helpful these days.
Of course, as the poll points out, this might be affected by the fact that people haven't heard of Breitbart or Infowars.
"Credibility was significantly lower for far-right sites such as Breitbart and InfoWars, but both were also hampered by being largely unknown. Forty-two percent of people said they "never heard of" Breitbart, and 49 percent said the same about InfoWars. Twenty-six percent said Breitbart was not credible, while 21 percent said the same of InfoWars. Breitbart and InfoWars did better with Republican men, with 32 percent and 27 percent respectively saying the sites were credible."
You're still probably better off choosing The Onion. Check out this headline from the other day. Topical!