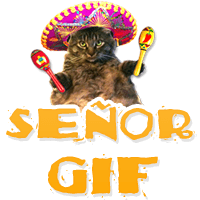 Señor GIF
The weekend is nearly upon us, and we know what that means: procrastination at work. To aid you in this important task, we've compiled a nice long list of fifteen GIFs that'll get you giggling (and make your co-workers look at you weirdly). But it's almost the weekend, so you don't care! Get your GIF on.
I guess none of the women at that wedding will ever get married then.

---

---

This girlfriend is desperately trying to get her boyfriend to face ID his phone.

---

Even the dog is sick of her videos.

---

They tried so hard to not get wet.

---

Get the f*ck out of my way.

---

Noodles that explode with flavor. Literally.

---

---

Jack Black and his son raiding Area 51.

---

---

---

When you own a huge, long-nosed dog, might as well make the most of it.

---

And I thought I was professional when I put the knife and fork on the right sides of the plate.

---

---

This is what I imagine early morning risers do before I wake up.