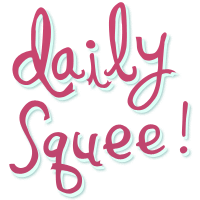 Daily Squee
Reader Squee: Bunday Birthday!
Our submitter says: "This is Byron checking out his banana birthday 'cake' that I made for his and his brother's 2nd birthday! They didn't eat any, but I'm sure they appreciated the thought."
Silly bunnies don't realize how good they have it! You're a very thoughtful pet mommy to have made them a banana birthday-cake and to have sent us a picture of it!
Do you have a squee pet that you want to share with the world? Send us your pet pictures and stories, and they could end up on Daily Squee!