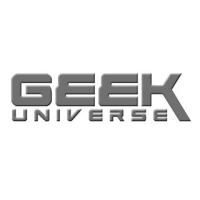 Geek Universe
We finally got our first look at Valerian and the City of a Thousand Planets in motion this morning. We're pleased to say it has everything you might hope for out of a glorious, big screen, sci-fi film.
The film comes from the creator of the favorite The Fifth Element, Jean-Claude Mézières and is directed by that film's director, Luc Besson.
The film looks nothing short of the grand universe we love to see, and seems to delve heavily into the movie genre its source created.
This trailer is fantastic, and we hope it holds true and delivers an amazing film. The use of the Beatle's - Because is perfect, it's haunting and moving, and puts us just enough out of our comfort zone that we are willing to accept that we're in another world for a moment. The team had to get special permissions to use the song in this trailer and it paid off.

I sincerely hope that the rest of the sound track is original though, I don't feel using contemporary music is good for world building. (Unless you're Guardians of the Galaxy and are using it as an intentional tie in.) But that's just me and I'm no expert on sound design. It's also worth noting that this films source material Valérian and Laureline, the masterpiece of Jean-Claude Mézières, was one of the first big space operas, so we're sure it won't disappoint.

---

Saying that we think this film draws heavy inspiration from Star Wars isn't a bad thing, even the prequels have amazing visual design that gives breath of a moving, feeling, changing world. We love any world that allows us to truly immerse ourselves in it. Something that The Force Awakens was severely lacking. (Sorry JJ)

I also want to point out the sheer irony of making the claim that this film borrows from Star Wars, considering the original Star Wars drew heavy influence from this films source material Valérian and Laureline.

Regardless the movie's art design seems to run in the same vein of the Star Wars prequels, Coruscant anyone?

---

This duo is the brave and strong Valérian and the ever intelligent Laureline. Although we're sad to see that they dropped Laureline's red hair in favor of blonde, we don't see it being too big of a deal.

---

What a romantic.

---

I got a bad feeling about this...

---