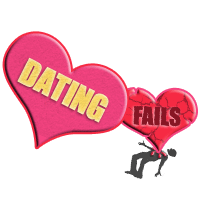 Dating Fails
The text message may not be the most courteous way to break up, but we're pretty sure it's the most entertaining. Unless someone has broken up via sky-writing. That would probably be better.
1

Really Twist That Knife

You want them to hurt just like you hurt, but sometimes they just don't care.

---

Advertisement

2

It's a Matter of Grammar, Not the Heart

Communication is key, and this person knows it.

---

Some women may like poetry, but you know what they don't like? Crappy limericks. In fact, it's not just women. NO ONE like's crappy limericks.

---

4

Don't Cheat With an Angry Girlfriend

For your own safety and sanity, do not Google pain olympics. We're serious.

---

Advertisement

5

Again, TEXT THE RIGHT PERSON!

Names aren't hard to read people. Always double check.

---

6

Make Sure You Text the Right Person

And hope to god you don't get your girlfriend's father. It will only get worse from there.

---

7

Sometimes it Doesn't Take Much

A Simple auto-correct mistake can do so much damage. But it's nice to know where your partner stands.

---

Advertisement

8

A Good Companion Needs a Good Heart

When you find out you're dating a sociopath, it's probably time to end it.

---

9

It's Good to Find the Humor in a Breakup

To be fair, octagon is a funny word.

---

10

Whenever Possible Use Pictures

A picture is worth a thousand words, so you can really go in to detail on why the relationship isn't working.