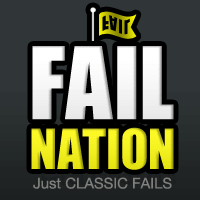 FAIL Nation
News Fail of the Day: Fire Stunt Goes Terribly Wrong for Brazilian Performer
Luis Ricardo played with fire, and as the saying goes, he got burned.

Ricardo was performing a fire breathing stunt on Brazilian TV Tuesday when his clothes accidentally lit up.

The video shows him running off stage in panic as the rest of the people on stage run around trying to put out the flames. The audience continues to clap, presumably unaware if this was intentional, and siren sound effects are heard in the background.

According to the report, Ricardo is ok and was treated for minor burns at a hospital in San Paolo.

Ironically, he warned the audience beforehand, not to try this at home.