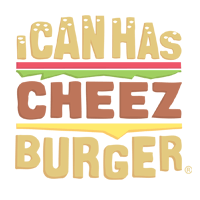 I Can Has Cheezburger?
A New Forever Home: The Best Christmas Gift of All
Our friends at The Itty Bitty Kitty Committee have a story we think is worth sharing. You should read the entire thing, but here is a brief overview of the heartwarming events:
Graham, the adorable kitty featured to the left, was in need of a new forever home. Laurie of The Itty Bitty Kitty Committee brought Graham to the home of a friend and neighbor who'd expressed some interest in adopting a cat but needed to be sure that Graham would get along with Melvin, their other cat. Upon arriving in the home, Graham and Melvin became the best of buds, and Laurie hatched a surprise plan...
The next night, Laurie wrapped Graham's carrier up and brought him back to her friends' house. There, she presented the family with the gift of Graham. This was a complete surprise to the children who, as you can see, were ecstatic.
Sweetest Christmas miracle ever!!!