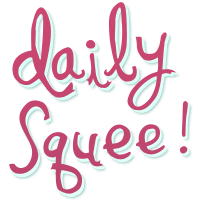 Daily Squee
Lyndsey Torok says: "My pitbull Luigi fell in love with our little baby, Marv, from the day I brought him home at four-weeks-old. Little Marv lost his mom in the April 27, 2011 tornadoes in Northern Alabama and my vet had him and gave him to me. He's the cat's meow!"
Isn't interspecies love and friendship so squee?
-Sally Squeeps
Do you have a squee pet that you want to share with the world? Send us your pet pictures and stories, and they could end up on Daily Squee!