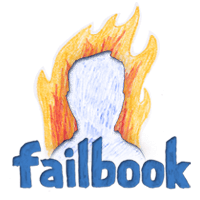 Failbook
Amy's Baking Company was recently featured on an episode of Kitchen Nightmares, in which Gordon Ramsay eventually broke off his agreement to help the bakery because the Bouzaglos were too awful to work with... yeah, that's right: if Gordon Freakin' Ramsay thinks you're too difficult, maybe it's time to do some soul searching. If that doesn't give you a good idea of what the Bouzaglos are like, maybe this will...
1

After the episode of Kitchen Nightmares, people started peppering the company's Facebook page with bad reviews and criticism...

---

2

... which they didn't take kindly to...

---

3

... which they really REALLY didn't take kindly to...

---

4

Eventually, Reddit got wind of the owners' tirade and posted it all to r/cringepics.

---

---

6

... but the Bouzaglos wouldn't back down.

---

---

---

---

---

---

12

They eventually sunk so low that they photoshopped a Reddit thread where they claimed via fake accounts that police were arresting the trolls...

---

13

Watch out guys, we've got badasses over here!

---

14

And the negative Yelp reviews continue to pour in.

---

15

Even God himself had to join the fray!