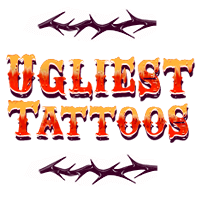 Ugliest Tattoos
Updates With Respect to Ugliest Tattoos
In order to focus our efforts on the sites you all enjoy the most, we will no longer be updating Ugliest Tattoos with new content. The last day with new content will be Friday January 24.
Don't panic! We will still post content that is relative, but it will be filtered into other sites. You'll be able to find any new ugly tattoos on FAIL Nation and FAIL Blog.
Starting Saturday January 25th, this site will be completely randomizing the content daily. That means you'll get a completely random chance of seeing any older ugly tattoos you might have missed before!
Please feel free to read more details and/or leave comments on our Cheezburger blog.