One year ago today, Russian officials responded to western sanctions by declaring they would ban foreign imports on many foods, including cheese.

Well Aug. 6, the BBC says they began keeping that promise by destroying a great deal of food.


One steamroller took an hour to crush nine tonnes of cheese. The country has also steamrollered fruit and burnt a huge pile of bacon.

Boxes of bacon have been incinerated. Peaches and tomatoes were also due to be crushed by tractors.

The destruction has caused an outcry from anti-poverty campaigners who say it should have been given to the poor.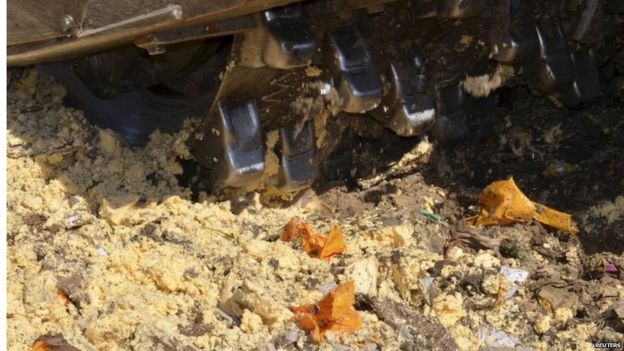 Just watch as literally tons of cheese gets bulldozed behind this reporter:




More bulldozers. Bulldoze the cheese!



If you're wondering why so much footage exists of this destroyed cheese, it's because Vladimir Putin demands it, according to The Guardian.


President Vladimir Putin signed the decree ordering the destruction of food which breaches sanctions last week, with the law due to come into force officially on Thursday. The products must be destroyed in front of witnesses, and the act should be captured on video, to preclude corruption.