A farm in Esmont, Virginia recently announced that it needs a ton of volunteers to snuggle with its baby goats. Caramont Farm houses more than 120 goats, who produce fresh and aged cheeses for their farmers. This news comes in hot off the wire, after the farm realized their due for 90 goats this February.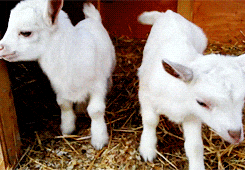 If you consider yourself an exceptional cuddler, Caromont Farms has a sign-up sheet online. where folks can volunteer for four-hour shifts from early February through March.


Unfortunately this job's straight up something out a dream, and those open slots filled up quicker than you liked this post. But actually, maybe.