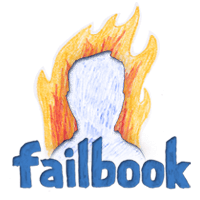 Failbook
A global roast on American swimmer Ryan Lochte is underway after recent reports claim that the swimmer completely made up the story that he and three other US Olympic swimmers were robbed at gunpoint.
The truth is that gold medal swimmers Lochte, Jack Conger, Gunnar Bentz and Jimmy Feigen were trying to cover up an altercation with a gas station security guard after busting down a bathroom door.
Conger and Bentz gave up Lochte to the cops and said he fabricated the entire robbery tale.
1

Yesterday, he was The Lochte Identity

---

Advertisement

There was a problem rendering this tweet - it may have been deleted.

---

3

Today, he's a criminal mastermind

---

---

Advertisement

---

---

---

Advertisement

---

---

---

Advertisement

---

---

---

Advertisement

---

---

16

UPDATE: Ryan Lochte has finally said something about the infamous Rio Robbery and issues an apology for being a douche.