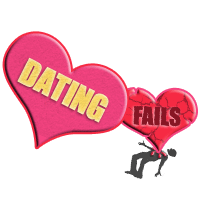 Dating Fails
A Texas Couple's Relationship Goal Is to Eat Until Woman Becomes so Fat She Can't Move
Monica Riley and her boyfriend Sid are on a dedicated mission to make Monica the world's fattest woman. With Sid as her "feeder" the two make a disgustingly good team as Monica attempts consumes over 8,000 calories per day.
Monica's daily menu:
Six biscuits
Six sausages in a bread roll
A big bowl of sugary cereal
Two weight gain shakes
Four McChicken sandwiches
Four double cheeseburgers
Large French fries
30 chicken nuggets
Macaroni cheese
Taco Bell
A gallon of ice cream

1

'The plan is to reach 1,000lbs [50st] and become immobile. I would feel like a queen because Sid would be waiting on me hand and foot and he's excited about it too." - Monica

---

2

A picture of a daily intake. BUT HEY! Looks like there's some green in there!

---

3

Sid prepares a shake for Monica to drink through a funnel. It consists of Pop Tarts, heavy-duty cream, milk, ice cream, and weight-gain powder. (3,500 cals)

"The funnel feeding is what I really look forward to. I find it to be a very sexual experience and I know Sid likes it too."

---

4

Monica is also a model.

---

5

"Sid loves to cook for me and hand-feed me and I've achieved so much since we got together. He feeds me around the clock and I never have to get up to do anything."

---

6

"My mum doesn't understand it at all and she says I'm killing myself. I understand her concerns but it's my life and gaining weight makes me happy."

---

7

"I could get hit by a car tomorrow and my life would be over. At least if I die this way I will have lived out the life I wanted and fulfilled all of my dreams." - Monica

And they say everything's bigger in Texas.