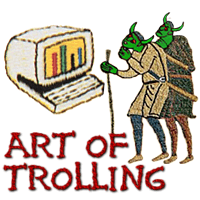 Art of Trolling
Florida High School Senior Barred From His Commencement After Drawing a Giant Dong in the Field Near the Graduation Site
Via the Tampa Bay Times:
"Nature Coast Technical High School officials were setting up the stage Wednesday for graduation at the school's football stadium when they encountered, uh, a bit of an issue.

Spanning nearly the width of the field was a prankster's rendition of the male anatomy. Big. Obscene. And without a doubt inappropriate for tonight's graduation ceremony.

News of the unmistakable rendering of a penis sped through the school and gained traction on social media.

Principal Toni-Ann Noyes quickly discovered that the act had been perpetrated by a Nature Coast senior who sprayed some type of weed killer on the field about two weeks ago.

"I'm going to have over 2,000 people sitting in our stands, and we take great pride in our Nature Coast graduation," Noyes said. "I was very disappointed that someone would do this and not think of the other students and the families that would have to look at this."
C'mon, man! Rookie mistake! You're supposed to wait until Rush Week freshman year of college to do that!