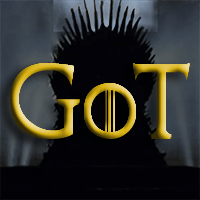 Game of Thrones
Game of Thrones To End After Season 8
Winter is coming for HBO's hit fantasy show everyone is either watching, or protesting by not watching. HBO programming president, Michael Lombardo spoke at the Television Critics Association, saying,
"Seven-seasons-and-out has never been the [internal] conversation. The question is: How much beyond seven are we going to do? Obviously we're shooting six now, hopefully discussing seven. [Showrunners David Benioff and Dan Weiss are] feel like there's two more years after six. I would always love for them to change their minds, but that's what we're looking at right now."
Book fans are probably especially sad, because now GRRM's series will more than likely be spoiled before he's even half-done with book seven.
On the bright side, there does seem to be the potential for an HBO
Game of Thrones
prequel series. Lombardo,
"It really would depend fully on what they wanted to do. I think you're right, there's enormous storytelling to be mined in a prequel, if [author George R.R. Martin] and Dan and David decide they want to tackle that. At this point, all the focus is on the next few years of the show. We haven't had any conversations about that at this point."
We would love to see a show that tackles the nitty gritty details of Robert's Rebellion. Audiences would get a closer look at the Reeds, Lyanna Stark and the craziness that is the Mad King, Aerys Targaryen.