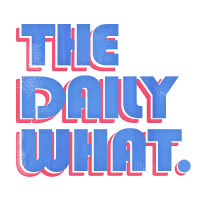 The Daily What
ICYMI of the Week: All the News We Didn't Get to Print
We here at The Daily What strive to give you, our loyal, intelligent, personable, and, might I add, very good looking readership, your daily does of "hold the phone!" But sometimes that requires choosing one story over another. Now that doesn't mean that one is more important than the other, it just means that one was more important than the other. I kid. We just didn't get to it.
So in the spirit of keeping you smarter and more informed than your friends, here's a dump of all the stories we didn't get to this week. Enjoy!
A humongous sinkhole opened in Fukuoka, Japan via The Guardian.
Toblerone changed its shape and claimed that this is not a perfect metaphor for Brexit via The Verge.
Mark Zuckerberg doesn't think that the plague of fake news on Facebook had effect on the election via Recode.
Jay Leno had Vice President Joe Biden and Colin Powell drag-race on his show via The Washington Post.
Representative for the Pawnee Parks and Recreation Department and Fictional Character, Leslie Knope weighed in on the presidential election via Yahoo!
All your friends on Facebook won't stop reminding you that Bernie would've beaten Trump via US Uncut.
Zach from the DNC became the hero we deserved via The Huffington Post.
Van Jones called the Trump win a "White Lash" via CNN.
We got our first look at the King Kong prequel via Entertainment Weekly.