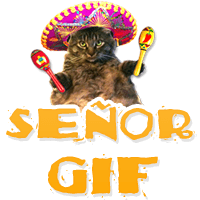 Señor GIF
The time has come for gifs to eat away at your work day once again. To sit back, relax and procrastinate through the productive hours and closer to getting back home to your family. Don't forget to check out last week's edition of the best gifs around, especially if you want to prevent any sort of productive activities today. But even if you do, you might just find the inspiration you need to end the day on a strong note.
1

A Horse Is a Horse Of Course of Course

Mr. Ed called, he wants his trick back.

---

2

Look Into My Eyes Hooman

---

3

If At First You Don't Succeed, Down With the System!

This is what happens when you're a lazy employee. Enjoy the ecstatic winner and the apoplectic boss

---

4

This Cow Is Too Smart For Us

You're cow traps are no match for this cow. You just better pray it doesn't tell its friends about this.

---

5

Ingenious Design is Ingenious

Preventing dumb passengers from opening doors accidentally, check.

---

6

I'm Not Crying You're Crying

Dogs can be everything in this world to someone, even like parents. Truly man's best friend.

---

7

Gotta Get Up to 88 Miles Per Hour

Come on Doc it's time to travel back to when the world made sense.

---

She isn't having any of that nonsense.

---

9

This Cat Appreciates the Simple Things

---

10

One More Reason to Hate Winter

How do you explain this one to insurance?

---

---

Not even Lebron thought he fooled anyone.