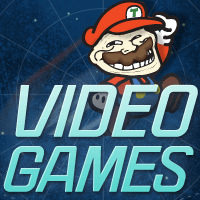 Video Games
The Worst Video Game Music of All Time
Prepare for your brain to liquefy. Listen to some terrible jams and then tell us what you think is the worst video game music of all time.
The Adventures of Rad Gravity - Title Screen

Sonic Arcade - King of the Ring

Animal Crossing: Wild World - Resetti's Theme

Mario Party 2 - Honeycomb Havoc

It's not so bad at first... but then PLS STAHP!

Doomsday Warrior - Shadow Stage

Silent Hill 2 Dog Ending

ROLF ROLF ROLF

Marvel Vs. Capcom 2: Character Select Screen

I WANNA TAKE YOU FOR A RIDE! I WANNA TAKE YOU FOR A RIDE!

Cruis'n USA

Night Trap - Party Time Scene

King's Quest V - Town Music

Have fun listening to this gem.

Doom 32X - The Imp's Song

Resident Evil: Director's Cut: DualShock OST - Mansion Basement

WWF No Mercy (N64) - Menu Screen Music

SOCKO!

Action 52 - Crazy Shuffle Theme

Herp a Derp

San Francisco Rush - What's Your Name?

WHAT? The alphabet?

The Terminator (NES) - The Sewers

No, it is not on a loop.

Double Dribble Arcade - National Anthem

This should be the new National Anthem.

Crazy Bus - Title Screen

Crazy Bus is an unlicensed Venezuelan Sega Genesis tech demo from 2004, created to test out the author's BASIC compiler and sound driver. It would be completely unremarkable if it wasn't for the eardrum-bursting, randomly generated soundtrack.