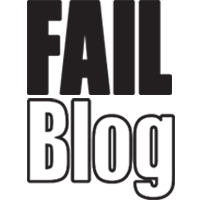 FAIL Blog
A the glories of printed news and entertainment. An industry on the slow decline towards its inevitable death, and some of these might just be part of the reason why.
Don't get me wrong, I love printed physical copies of things. I maintain that books aren't the same on an e-reader as they are printed. That tangible feeling of flipping through pages is an important part of the experience.
The same goes for video games. Before consoles were connected to the internet, games were the same as printed media in that they were a finished product. What you bought was what you got, glitches and all. There were no patches or anything or ways to update the game, like printed media, the game was just the way it was.
Anyways, I'm prattling like an old fart about things even before my time. Here are some hilarious editorial mistakes that I'm sure the publishers wish they could edit and take back. Which is why I'm glad I work on the internet. If I screw shit up I can just go back and fix it.
---

Advertisement

---

---

---

Advertisement

---

---

---

Advertisement

---

---

---

Advertisement

---

---

---

Advertisement

---

---

---

Advertisement

---

---

---

Advertisement