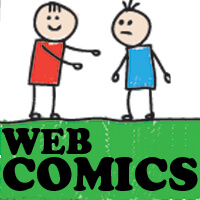 Web Comics

Parents, lots of people have them, some are them, and others will never become them. They are apparent in almost all aspects of our world. Weird, huh? Well here's some web comics that demonstrate what life is like for those who follow the parental path.
1

Your Children Will Become Part of The Digital Ephemera Before They Are Born

---

Advertisement

2

Physical Changes Become Apparent

---

3

Before Long This Happens to Many People

---

4

Kids Will Learn From Your Instructions And Attitudes

---

Advertisement

---

6

Soon, Technology Will Be Able To Recreate All Aspects of Parenting

---

7

Eventually You'll Get Your Kids to Play Hottest Game This Year

---

Advertisement

8

True Support is Shown When You Don't Accomplish What You Intend To

---

9

The Best Parent of All-Time

---

---

Advertisement

11

Nature Reminds You of The Simple Cruelty That Exists in Life

---

12

Everyone Gets a Little Alienated From Their Family

---

13

Parents Can Be All Sorts of Ages

---

Advertisement

14

Does Father Knows Best?

---

15

Who Can Bear Witness to These Problems?

---

16

Where Did They Go Wrong?

---

Advertisement

---

18

Parenting Demands Many Different Things

---

19

Some Key Advice For Everyone

---

Advertisement

20

However Technology Opens Up a Pathway That Will Make Us Question The Reality of Our Experiences

Was this list even real?