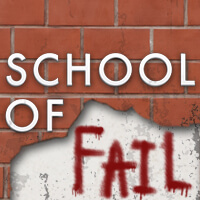 School of Fail
30,000 Year Old Zombie Virus!
A monster virus comes back from ancient times to wreak havoc on mankind. That may sound like a blurb from a science fiction novel, but as scientists have known for some time, it's not at all impossible. And thanks to the recent revival of a 30,000-year-old giant virus in Siberia, there's increasing concern that it might describe our future.

But before you go diving into your hermetically sealed fallout shelters, it's important to note that, at least thus far, this and every other virus we've found sleeping deep beneath the surface hasn't been of any threat to mankind. So why's everybody talking about this discovery like it's the opening of the seventh seal? In proving that dormant viruses this ancient can, in fact, be revived, we've just opened up a Pandora's box of pandemic proportions.