Take note, the following game we're about to cover errs on the side of NSFW. Knowing that, proceed or don't, as you will.

NIS America previously announced that the erotic dungeon crawler, Criminal Girls 2: Party Favors would make its debut this September on Vita. The announcement however, came with a bit of a big catch, and that centered on the company's decision to make a series of modifications to make the game more 'appropriate.' Preceding the game's release, the company released the following statement via their blog:

"I want to give you some insight into our process and exactly what's changing so you can make an informed decision," said NIS America senior product marketing manager Jordan Vincent." [...] Although some players might not be happy about the changes, we expect many will still appreciate the product for what it is and localizing it allows them the chance to enjoy the game's unique story, gameplay, and characters without needing to speak Japanese or deal with the pains of importing."
Even considered conceptually, the game's bound to make some folks uncomfortable. You're basically a guy sent down to hell to 'motivate' a bunch of bad girls to be 'rehabilitated' so that they're primed for battle. You accomplish your goals via sexual minigames, like spanking them or brushing soap off their bodies.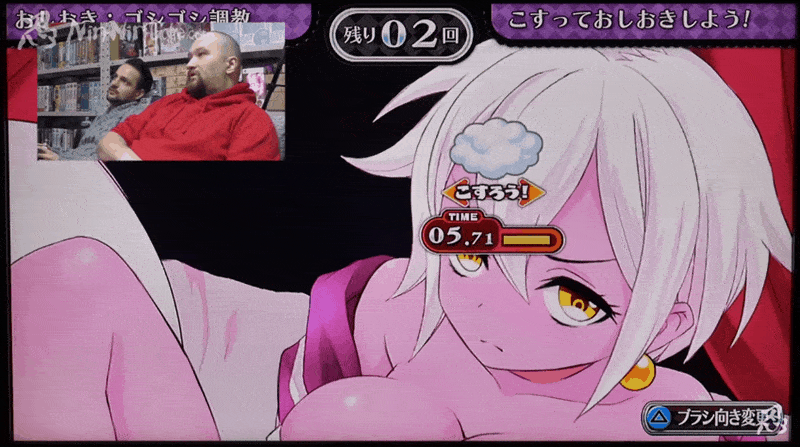 Via: NinNinGame

NIS America was forced to change a few elements of the game when they brought it over.

"Some of you might be asking, 'Why change anything in the first place?'" said Vincent. "The answer to that question is pretty complicated overall, but here's the short version: While we do our best to make all our fans happy, we also need to make sure that our games can be released on the platform they're made for, and released in the various territories in which we sell them."
First, some of the artwork, especially that during the 'motivation' scenes was altered to be less explicit, like such:




Second change from the original Japanese version, was swapping the in-game term 'punishment' for 'motivation.'

Third, there won't be any English voiceovers. Keeping it strictly English text, and Japanese voiceovers.

Lastly, all dialogue's been eliminated from the 'motivation' scenes.

So, what do you guys think of all this, and will it go on to bring about changes to the world of video game censorship?