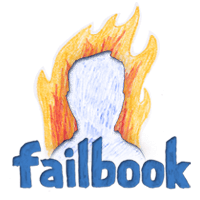 Failbook
This is a prime example of why you've always gotta be careful with what you put on the internet. Granted, tweeting about spitting in someone's beverage is a pretty damn surefire way of taking the shortcut to the unemployment bench.
1

First, the original enraged tweet from the Starbucks barista:

---

Advertisement

2

The reasonable people of Twitter were quick to step in...

---

---

4

Seems like a logical enough point.

---

Advertisement

---

---

7

Honestly though, does this 'person' even work at Starbucks?

---

Advertisement

8

Looks like she retweeted this dude cause he might very well have gotten her canned.

---

9

And the ending to this ridiculous story that could easily be fact OR fiction...

What a time to be alive.