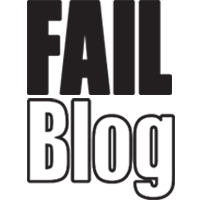 FAIL Blog
Rifling through this sweet and savory selection of service industry-inspired pics and memes brought all the bullshit-ridden glory days back. As someone who worked through the opening, closing, and double-shifts as a self-proclaimed team bitch of a busboy/dishwasher, no less....I definitely connected with this collection.
Those were the days, man. Were they though, were they? Continually making every effort to appear busy when the vindictive manager made her/his obsessive productivity sweep through BOH, every 15 minutes. Or engaging in all out verbal warfare with a potentially drug-fueled, heavily tattooed line cook that spewed rage and backhanded, incomprehensible foreign slang you just knew was directed at you. And the endless slush pile of dishes, and the sweet unwanted steam bath that pervaded through the dish pit every time a fucking lunch or dinner rush hit. At least the FOH provided a consistent source of beautiful-faced, professionally flirty entertainment.
If you're looking to kill some time on your break here are 24 savage work memes to distract you, and another 28 work memes that will hopefully help you get through the rest of your shift. Or just sympathize with your fellow coworkers with this list of work memes about the highs and lows of the work week.
---

---

---

---

---

---

---

---

---

---

---

---

---

---

---

---

---

---

---

---

---

---

---

---

---

---

---

---

---

---

---

---

---

---

---

---

---

---

---

---

---

---

---